Design Your Perfect Outdoor Space for the Summer
June 18, 2021
It's no secret that after months of quarantining and staying at home, the outdoor living space in your home has become essential. At Boone Homes, we want your outdoor living space to be enjoyed year-round. Whether it's a patio, covered deck, covered patio or screened-in porch, our team of professionals is here to help you bring your envision to life. With a personalized customization process, you can create your backyard oasis. Here are a few things to consider and elevate your outdoor space:
Covered Patio or Deck
Choose to cover your patio or deck for additional shade. A covered patio provides a place to relax no matter what the weather. Opt-in for a built-in ceiling fan to keep you cool in the warm springs and hot summers. Add recessed lighting or string lights for easy transition from day to night.
Screened Porch
Relax, unwind and enjoy your favorite book or cocktail on your screened porch. Take some time for yourself and enjoy the privacy of your outdoor space. Incorporate greenery where you can and bring in additional color with a fun rug and decorative pillows. Consider a sectional for your seating area. Sectionals offer enough seating for people to gather and can be easily reconfigured when you choose to rearrange your space. 
Outdoor Kitchen and Grilling Station
If your summer consists of BBQs with family and friends, you may want a large patio fully equipped with an outdoor kitchen and grilling station. Boone offers a variety of options and our Selections Coordinators will help you make the right choice for your home. Impress your guests with a TV or built-in Bluetooth speakers. Your guests will love gathering at your new home and will cherish memories made.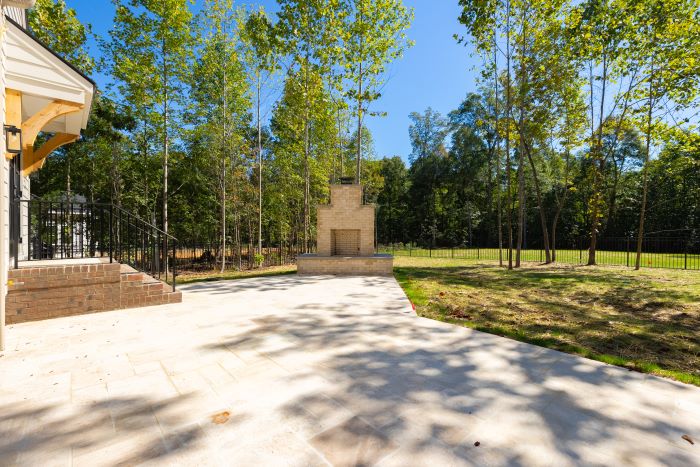 Built-in Fireplace
Choose a built-in fireplace to serve as a focal point and the perfect gathering space for your family. Bring out the marshmallows! A built-in fireplace is perfect for summer nights or cool fall evenings.
Sunroom 
Choose a sunroom and enjoy your space no matter the weather! Boone Homes' offers sunrooms with an abundance of natural light. Cozy up and bask in the sunshine all year round.
The options are nearly endless and just about anything you can imagine can be incorporated into your private outdoor living space. At Boone Homes, we have built a reputation for top-quality craftsmanship by using highly skilled professional and top-rated products. Learn more about a Boone Homes community near you.